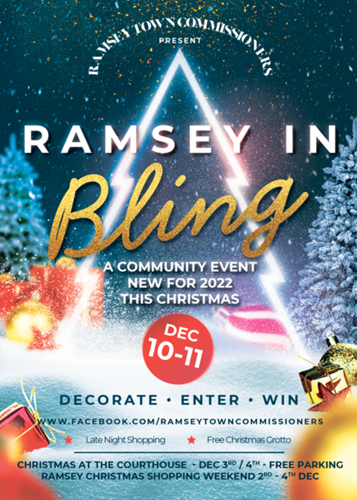 Help us spread the holiday cheer this festive season as Ramsey Town Commissioners launch "Ramsey in Bling", a new community competition.
This time of year, it's customary to decorate living rooms, homes and businesses with lights and decorations to celebrate Christmas. We want to encourage as many as possible to take part, adorn your properties with seasonal decorations, feature in our promoted "Ramsey in Bling" tour, and be in with a chance to win a prize for best entry!
Let's all work together to bring a little magic to Ramsey at Christmas.
How it works: If you would like to enter Ramsey in Bling and will be decorating the outside of your property, commercial or residential (visible from the street), fill out the online form by clicking here here before November 30th. There are categories for day and night, so participants can get creative either with or without illuminations.
Decorations must be in place by the first weekend of December, when photographs will be taken of your efforts for an online guide. The tour will take place on the weekend of the 10th – 11th of December, with visitors given the chance to vote for their favourites online.
We will invite all entrants to Town Hall to find out the results of the vote, with the winners claiming their prize.
Best Residential Property - Daytime
Best Residential Property – Nighttime
Best Commercial Property - Daytime
Best Commercial Property – Nighttime
And don't forget, on Saturday 3rd and Sunday 4th of December, Ramsey Town Commissioners will be bringing Christmas to the Courthouse with a free Santa's Grotto! Going hand in hand with the Northern Chamber of Commerce providing late night and Sunday opening over that weekend, making it the perfect opportunity to visit Ramsey's fantastic array of independent shops and hospitality businesses.