Our parks and gardens are green spaces in the heart of town that offer a wide range of leisure attractions and serve as the setting for many community and charity events.
Mooragh Park
The Mooragh Park has been granted a Green Flag Award for the year 2019.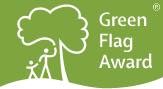 At the heart of Mooragh Park is a 12-acre boating lake, where you can enjoy canoeing, kayaking or hire a pedalo.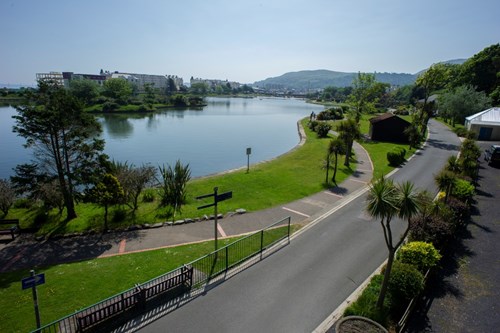 Throughout the summer months the park is the setting for a number of sporting and fundraising events and in November families descend in their thousands from across the island to witness our spectacular fireworks display, fired from the island in the centre of the lake.
Amenities:
Children's water play park;
Playground;
Flood-lit tennis and basketball courts;
TT-themed mini-golf course;
Putting green;
Crown green bowling green;
Outdoor adult exercise equipment;
Skate park;
BMX track;
Two cafés;
Public conveniences;
Adjacent free parking;
Camper van parking adjacent to the park permitted between spring and summer. (Permit required. For details, click here).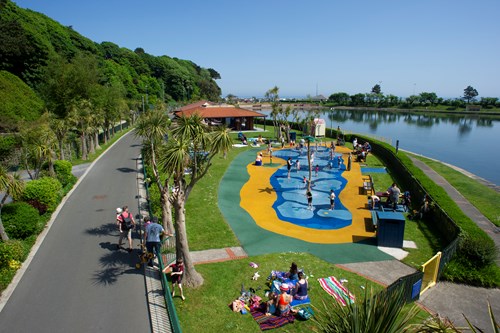 The park has CCTV coverage, is suitable for wheelchair users and an automatic external defibrillator (AED) is fitted to a wall of the lakeside Costa Coffee shop.
Dark Sky Discovery site
Just to the north of Mooragh Park is a Dark Sky Discovery site, one of 26 in the Isle of Man, now officially recognised as the best place for stargazing in the British Isles.
To find out more about the island's Dark Sky Discovery sites click here.
 Coronation Park
Located between Queen's Pier Road and Princes Road Coronation Park is within easy walking distance of the town centre. The park is covered by CCTV.
Amenities:
Children's play equipment;
Ball games area;
Public toilets.
 Courthouse Gardens and Cenotaph
The Courthouse Gardens and Cenotaph in Parliament Street are the product of a flagship Ramsey regeneration project and are the setting for live entertainment in the summer months, community events such as the switching on of the Christmas lights, Remembrance Sunday and commemoration of loss ceremonies.
In 2018 the Courthouse was acquired by Ramsey Town Commissioners from the Department of Home Affairs. The Commissioners are currently considering expressions of interest submitted for its future use.
Floral displays
Every year our parks and gardens team:
Produce around 10,000 bedding plants;
Install hanging baskets and planters throughout the town.
Engaging with the community:
 Ramsey in Bloom
Our annual Ramsey in Bloom competition gives residents and businesses an opportunity to showcase their gardening talents and perhaps win one of the many cash prizes and trophies on offer.
As part of Ramsey in Bloom we hold a sunflower-growing competition as a way of encouraging children to develop a love of gardening
The entry forms for the 2023 competition can be downloaded from here.
Bunscoill Rhumsaa daffodil bulb-growing competition
Our daffodil bulb-growing competition for the town's primary school children has been running for more than 35 years. Each year our parks department provides pupils with daffodil bulbs, planting compost, a pot and growing instructions. The bulbs are grown by the children at home then brought to school for judging, following which we hold prize presentations for infants and juniors.