The Committee for the Northern Civic Amenity Site would like to firstly thank all staff and users of the site for the patience and co-operation during these exceptional times.
We have received an extremely high volume of response's to the survey that we put out asking for your opinion on how the site should re-open following the relaxation of the Social Distancing Regulations. The results were very interesting but the majority was to have no booking system, so we've taken the decision to end the survey early and open the site from Thursday 18th June without the appointment system.
Van restrictions will not be implemented until Monday 22nd June to honour any bookings from the next few days for vans.
The re-use shed will NOT reopen at this time. This is due to government legislation that is in place preventing us from opening it.
To remind people what the site rules are:
1. We DO NOT accept Commercial Waste
2. Visits should be no longer than 15 minutes
3. Vans are restricted to Tuesdays, Thursday and Saturdays
4. Rubble is restricted to 6 x 25kg bags per person per week
5. We are not able to accept plasterboard at this time
6. The site will close for 1 hour between 12:00 and 13:00 on a Saturday and Sunday to allow for the compaction of skips and rotation of recycling bins
The skip positions have changed so please check all signage before depositing any waste in them. If you are unsure where to put your waste there are signs up or you can ask the staff.
Please do not queue on to the main Bride Road for the site and cause an obstruction to emergency services needing access beyond the site entrance.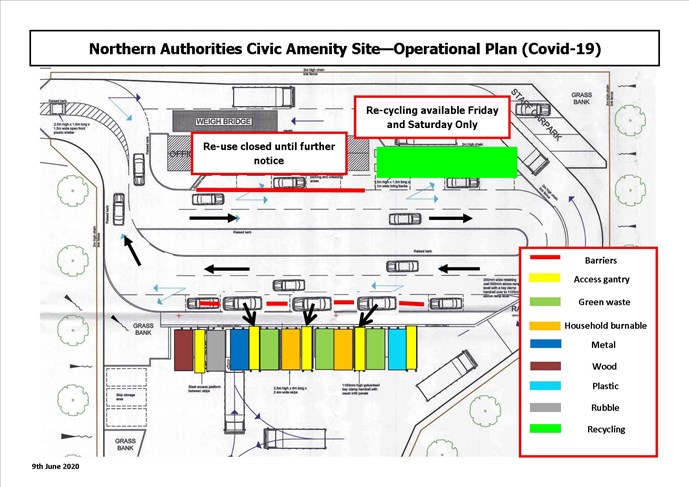 Normal Site Opening Hours:

Monday - Thursday: 8am - 4.30pm
Friday: 8am - 4pm
Saturday: 8am - 4.30pm
Sunday: 9am -4.30pm
 LAST ADMISSION IS 15 MINUTES BEFORE CLOSURE TIME
The site is closed on New Years Day, Tynwald Day, Christmas Day and Boxing Day.

Please see our facebook page - www.facebook.com/balladoole - for operational updates and closure information.