Following a competition inviting submissions to provide a logo for a new Ramsey Tote bag Ramsey Town Commissioners are pleased to unveil the winning design which is featured on the bags that can be purchased from Ramsey Library at a cost of £5.00.

The winning design was created by Leanne Higgins who commented:
"There is so much to love about Ramsey, it's ALWAYS sunny, we have THE best indie shops, loads of history and wildlife and it's just ace. The cherry blossoms outside the old courthouse were my inspo for the initial bag design. Sometimes it is the little things that stick in your mind and conjure up life long memories and stories told by loved ones.
I love that Ramsey is becoming a place for public art and I'm proud to be part of it. I'm opening a gallery in no.68 Parliament Street in the next few months, it's a dream come true, plus I get a lovely view of the Kilgallon family's flower building!"
Commissioner Juan McGuinness who proposed the initiative added:
"The Ramsey tote bags proved to be a great success when introduced last year, as both a practical way to reduce reliance on single use plastic bags and as a gift for people connected to the town. I wanted the Commissioners to continue this concept  and saw an opportunity to refresh the design and provide opportunities to our local creative community as well so opened up a design competition. I couldn't be happier with this vibrant colourful representation of the town by an amazing local artist which I am sure will be eye catching to anyone who sees it out in the wild and I can't wait to spot people sporting it around the island and beyond when out shopping."

The bags cost £5 each and can be purchased from Ramsey Library.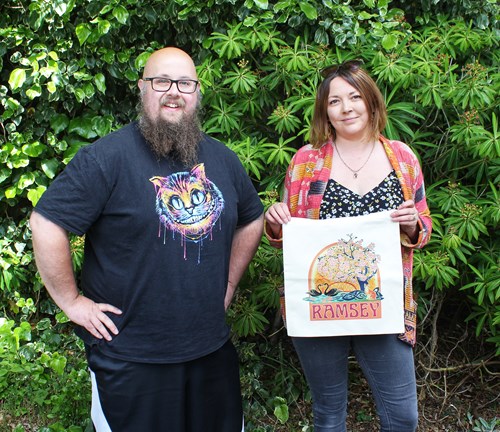 Pictured:  Juan McGuinness and Leanne Higgins with the new bag.