Ramsey is gearing up for its first SprintFest TT weekend – three evenings of top-class live entertainment in the heart of the town.   The festival come about by a desire to extend the TT festival atmosphere into the evening and attract locals and visitors to stay in Ramsey.
SprintFest will be in the town's Market Square from Sunday June 2 to Tuesday June 4 from 7pm to 10.30pm and is being organised by Ramsey Town Commissioners who have worked with the Department of Enterprise and supporters including Heron and Brearley and Mezeron.
A host of well-known bands from the local music scene will be performing and there will be street entertainment and food concessions on the for-three-nights-only traffic-free square.
The music line up is:
Sunday 2nd June – an easy listening start to the festival
7pm – Southern State
9pm – The Tides
Monday 3rd June - will have a more "rock" feel to it with
7pm- The Bone Yard
9pm – A Little bitta' Rosie
Tuesday 4th June will feature predominantly covers from
7pm – Caution Runners
9pm – Jester's Dead
It is planned to further enhance Sprintfest with an afternoon offering of traditional and acoustic music at Ramsey Courthouse.  If any musicians wish to take part in the afternoon event at Ramsey Courthouse please complete the Contact Us form at Sprintfest.com
Lead member for Finance, General Purposes and Establishment Juan McGuinness has been instrumental in bringing SprintFest to Ramsey. He said:
"I'm incredibly proud and excited to be on the cusp of the inaugural SprintFest, from talking about it as a pipe dream last TT on Manx Radio and then having some broad discussions at the Commissioners Board meetings in August a lot of hard work has gone into making this a reality. The Deputy Town Clerk Steven Bevan has worked very long hours on this project to bring it to fruition and I am incredibly grateful to Luke Parker and Mike Jelski who have both made tremendous contributions and given up their free time willingly in order to make this event the best it can be.
I am hopeful that this is the start of a major attraction in TT not just for Ramsey but for the whole Island for years to come, giving both locals and visitors an option away from Douglas and to give Ramsey the opportunity to show what a great place it is to visit and live in. We've got some great local food pop ups on the night as well as the many existing eateries in the vicinity not to mention a number of options running all along the quayside and into the square should anyone require refreshment, it's like a ready made festival setting.
The line up of bands show cases the talent we have on the island and over the 3 nights provides something for everyone - from easy to cheesey! The Market Place Square has the potential to be one of the best open air gig venues around and I hope the bands enjoy playing out over the square and harbour as much as the crowds will love listening to them. I've got everything crossed with regards the weather because that's the only thing I can see dampening what will surely be one of the best atmospheres available at TT."
For spectators' safety, West Quay and Market Hill will be closed on event days 6pm to midnight.  Market Square car park will be closed from 1st June until 5th June.
More details can be found on the dedicated website and social media pages:
www.sprintfest.com
www.facebook.com/ramseysprintfest
 www.instagram.com/ramseysprintfest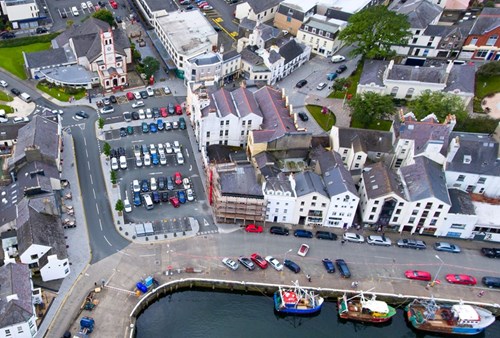 Photo credit: Gareth Pinckard