Mooragh Park awarded the coveted Green Flag Award.
In a record-breaking year Mooragh Park is again raising its prestigious Green Flag Award.
Ramsey Town Commissioners is celebrating after receiving a Green Flag Award for the Mooragh Park - one of 2208 winners across the Isle of Man, Channel Islands and United Kingdom.
The award is the international quality mark for parks and green spaces.
After two years that have seen our parks and green spaces play a vital role for people through lockdowns as a place to relax, exercise and meet friends and family safely, the news that the Mooragh Park has achieved the Green Flag Award is testament to the hard work and dedication of the team that make the green space a great space that everyone can enjoy.
Geoff Court, Deputy Chairman of Ramsey Town Commissioners and Lead Member for Parks and Leisure commented "This is fantastic news. Mooragh Park is a treasured asset, worthy of this status and recognition. It is a testament to the dedication and care of all those who work in it and maintain it for the community".
Mr Court added "The park is a gift for all ages, with the children's play area, bowling green, water sports lake, cafes and recently refurbished Splash Play area. Situated within walking distance to our renowned shopping area, it's the perfect place to take a stroll or entertain the family.
It also plays host to events such as the Picnic in the Park, Gran Fondo Isle of Man and the Island's best firework display. We owe a big thank you to all who made this happen. "
Commenting on the news that the Mooragh Park has met the Green Flag Award standard, Keep Britain Tidy's Accreditation Manager Paul Todd said: "I would like to congratulate everyone involved in making Mooragh Park worthy of a Green Flag Award.  Mooragh Park is a vital green space for the community in Ramsey. This award is testament to all the hard work of staff and volunteers, who do so much to ensure that it maintains the high standards demanded by the Green Flag Award."
The Green Flag Award scheme, managed by environmental charity Keep Britain Tidy under licence from the Department for Levelling Up, Housing and Communities, recognises and rewards well-managed parks and green spaces, setting the benchmark standard for the management of green spaces across the United Kingdom and around the world.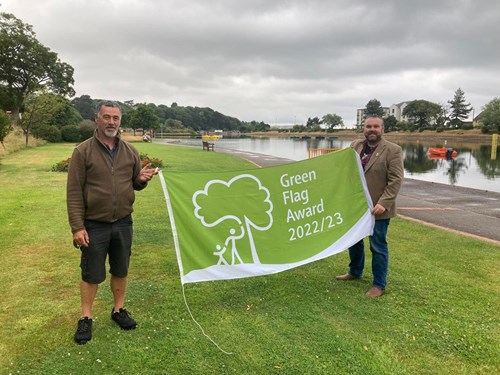 Ramsey Town Commissioners Head Gardener Bobby Cunningham and Ramsey Town Commissioners Deputy Chairman Geoff Court pictured with the 2022/23 Green Flag Award.