Call to Protect Ramsey Swing Bridge
Ramsey Town Commissioners have submitted a request to the Department of Environment Food and Agriculture to add the Ramsey Swing Bridge to the Islands list of protected buildings.  The call follows the registration of the Towns War Memorial and a proposal to add the K8 Red Telephone Kiosk located alongside the Ramsey Court House to the register.
The bridge was built by the Cleveland Bridge & Engineering Co. of Darlington in 1892 and comprises two steel trussed arches which span 64 metres towards a central pivot. The approach on the northern side is via a low eight-span viaduct.  The bridge was extensively refurbished in 2013. Cleveland Bridge & Engineering Company was founded in 1877 as a fabrication business and continues as a renowned bridge building company which has completed many large and prestigious projects throughout its history.
Although commissioned and constructed for the Ramsey Town Commissioners the Ramsey Swing Bridge now forms part of the Island's harbours infrastructure and is owned by the Department of Infrastructure.
Commissioners Chairman Andy Cowie said "The Board are strongly of the opinion that the swing bridge is an iconic part of Ramsey. The heritage of the bridge is unquestionable, and the bridge is an integral part of Ramsey's skyline. The recent registration of a telephone box whilst ignoring such a historic engineering structure within the town seemed strange to the Board and has prompted our request.  The Department of Infrastructure look after the bridge, which is in good condition and fully operational, and it is important that this effective work is recognised and the bridge maintained for future generations."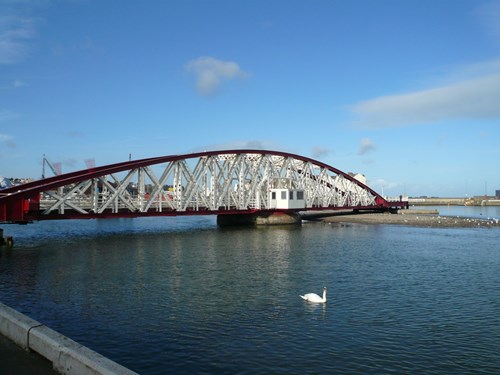 23 July 2021