Coronavirus (COVID-19)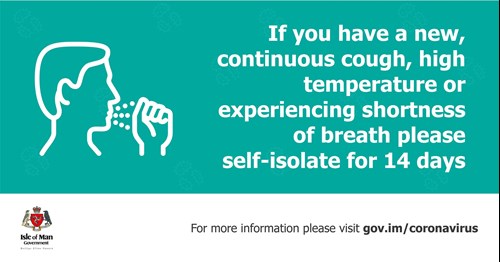 We will provide updates below should there be any change to the way we deliver our services:
Northern Civic Amenity Site - updated at 11pm on 26th March 2020
Please note that Isle of Man Government has instructed that the civic amenity site be closed until further notice.
Bring Bank Sites - Station Road Car Park - updated at 11pm on 26th March 2020
In response to the Covid19 emergency the DOI Bring Bank Service has been suspended. There will be no collections from Bring Bank sites after Thursday 26th March 2020 and until further notice.  Please do not to deposit recyclable materials in the bins or around the bins as the sites will not be serviced. If possible could you please retain any glass and metal recyclables until the Bring Bank Service recommences.
Playgrounds - updated at 11am on 25th March 2020
Please note that all Ramsey Town Commissioners play grounds are now closed. 
Housing - Repairs and Maintenance - updated at 5pm on 23rd March 2020

In light of the Coronavirus pandemic, please be advised that until further notice only  essential maintenance work and emergency repairs will be carried out.  We will continue to carry out the annual safety checks such as gas servicing to ensure you remain safe in your home.
If you have an emergency, we will still carry out your repair whilst making sure we do  everything we can to keep you, your family and our staff safe.  We'll now be asking you a set of pre-screening questions before starting any works and before entering your home.  Our staff or contractor will wear personal protective equipment and bring cleaning equipment.  You will be asked to keep out of the room where they will be working. 
All property inspections and non-essential visits have been postponed until further notice .
Tenants are reminded that any instance of infectious or contagious disease should be reported to the Commissioners, this is a requirement under the tenancy agreement and under the circumstances will enable the Commission to provide support when possible.
What is an emergency repair?
An emergency repair is something that needs to be fixed straight away as it poses a risk to the tenant and their family's health, safety or security. As examples this could be:
The loss of essential services, such as water or electricity
Major water leak (causing a flood)
Unsafe power or lighting socket/switch
Loss or fault with a fire alarm system
Loss of heating system
Toilet blockage or toilet not flushing (where there is no alternative toilet)
A serious security problem, such as an insecure external door or window
Major damage to the structure of the property.
Housing - Rent - updated at 5pm on 23rd March 2020

Tenants who do not already do so may wish to pay their rent via bank transfer or direct debit - this will assist those unable to visit the Town Hall as well as those who are self-isolating and social distancing.  Details on these payment methods are available by  phoning the housing or finance section at the Town Hall. 
In the event that you are unable to pay your rent as a result of the coronavirus pandemic, it is important to notify the Housing office as soon as possible and we will work with you to avoid formal action where Covid-19 is a factor.
Details on all payment options can be found here.

Refuse collections - Domestitc  updated 5pm on 23rd March 2020

Collections are programmed to carry on as normal. The bin must be at the kerb side by 6am and the lid must be flat.
Refuse collections - Commercial - updated 5pm on 23rd March 2020

We would be grateful if business could let us know what they would like to do with their bins during any closures during the pandemic. We could collect bins and return them once the business knows when they are to re-open or they must secure their bins against use by others.
Library & Town Hall - updated at 9pm on 22nd March 2020
In response to the COVID-19 pandemic and to protect our customers and staff the following changes have been implemented with immediate effect:

Ramsey Library has now been closed

If you currently have book/s these can be returned to the trolley in the foyer of the Town Hall, alternatively you can contact the library by telephone on 810146 or by email to extend your loan.

The first floor of the Town Hall, including the toilets,  is now closed to the public.  Visitors to the Town Hall should report to the counters on the Ground Floor.


Events - updated at 11.30am on 18th March 2020

We organise and support a number of events in our premises and on our land many of which support local businesses, community groups and charities. A number of organisers have cancelled community events in the town hall and as the situation is constantly changing and it may be necessary to cancel or postpone further events to protect our community and staff.
The latest information and health advice from Isle of Man Government can be found from the following link https://www.gov.im/coronavirus.
Following the introduction of emergency measures by the Isle of Man Government Chairman of Ramsey Town Commissioners, Andy Cowie, commented:
"Ramsey Town Commissioners are conscious of the significant impact these restrictions will have on commercial operations within Ramsey, particularly in the hospitality sector.
We are also aware of the considerable public concern, particularly amongst more vulnerable residents, caused by the incessant press coverage of the Coronavirus pandemic.
We have made plans for the operation of the Commission's business within a precautionary phase and also made contingency plans to mitigate against the possible impact of absent staff, who may have been affected by the illness itself or the need to self-isolate.
We will ensure that we have facilities available to meet the needs of our ratepayers and continue the smooth running of the town whilst considering the safety of our staff, customers and ratepayers."
We will provide updates below should there be any change to the way we deliver our services: